Solar Solutions' Electrolux solar distribution network expands to Sweden with APRILICE AB.
19.10.2022 – Solar Solutions Group, official provider of Electrolux solar modules under license from AB Electrolux, is glad to announce the expansion of the sales network of Electrolux premium solar modules to the Swedish market, and our partnership with APRILICE AB as official distributor for Electrolux solar modules in Sweden.
A truly global brand, Electrolux has always stood for quality, forward-thinking, human-centric solutions and a powerful focus on sustainability.
"We are excited that our licensing partner Solar Solutions is expanding into our home market Sweden", says Pierre Duhamel, VP Licensing Europe at Electrolux. "Our purpose is to shape living for the better. Now complementing our own range of sustainable appliances with solar panels is an important step for us to offer comprehensive solutions for a sustainable future".
"We are proud to offer high quality Electrolux solar products to businesses and households in Sweden. Solar solutions' full commitment to highest manufacturing standards ensures that customers can rely on clean energy solutions as a solid investment for a future of energy independence, and as a concrete step towards a more sustainable lifestyle", so states Stuart Brannigan, Managing Director of Solar Solutions Group. "In 30 countries worldwide, each of Solar Solution's Distribution Partner has one goal: delivering a premium product and an outstanding customer experience.  We are delighted to entrust APRILICE to deliver this value to solar professionals in Sweden as Electrolux solar distributor".
Founded in 2012, and through a continuous dedication to quality and customer service APRILICE has established themselves as the largest PV technical Know-how Platform for PV and the leading solar distributor in Scandinavia. Their powerful logistic capabilities including 6 warehouses in Sweden and strong  engineering competences ranging from technical guidance through  to turnkey project installation allows them to provide extensive services to solar installation companies . "We are looking forward to supporting solar companies in Sweden both with our expertise and with a truly premium product and global brand such as Electrolux that is widely acknowledged and appreciated by customers in Sweden", so Jing-Wei Cheng, CEO of APRILICE AB.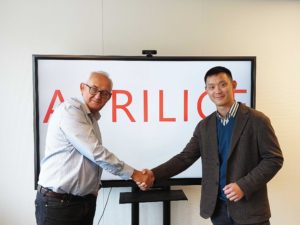 About Electrolux Group
Electrolux is a leading global appliance company that has shaped living for the better for more than 100 years. We reinvent taste, care and wellbeing experiences for millions of people, always striving to be at the forefront of sustainability in society through our solutions and operations. Under our brands, including Electrolux, AEG and Frigidaire, we sell approximately 60 million household products in approximately 120 markets every year. We also license our brands to more than 50 partners around the world, and for more than 10 million products. In 2021 Electrolux had sales of SEK 126 billion and employed 52,000 people around the world. For more information go to www.electroluxgroup.com.
About Solar Solutions Group
Since 2015, Solar Solutions has been helping customers worldwide to achieve their sustainability goals. With a network of selected partners in over 30 countries, Solar Solutions have been successfully delivering high quality solar products -solar panels, inverters and storage- with premium brands entrusted in license by Electrolux Group, thus supporting their customers' sustainable aspirations in all business segments. More information about Electrolux solar products on: www.electroluxsolar.com
About APRILICE AB
Founded in 2012, APRILICE is currently the largest solar platform and distributor in Scandinavia, with 6 warehouses and pickup hubs across Sweden,  a proprietary logistic fleet. APRILICE further provides a wide range of services for solar professionals such as product technical advisory and after-sales, project consulting and design, and inspection services. Thanks to a resident pool of installation professionals, APRILICE further provides turnkey installation projects. For more information: www.aprilice.se